GMMS-2001pH / GMMS-2002pH
Enables 24-hour ambulatory pH recording
Patient-friendly; small and light (155g)

Classifies the degree of acid exposure into 4 categories, using the time ratio of acid reflux assessment less than pH 4 based on AFP score (see reference below)
Even after the administration of PPI, there exist some cases that the GERD symptoms, such as heartburn, can still be observed.
In such cases, pH monitoring acts as an effective means to assess the acid reflux more carefully.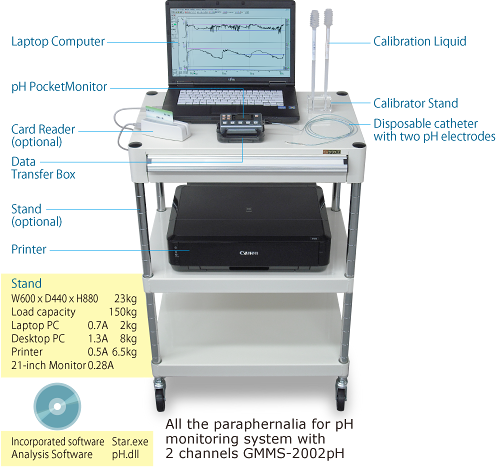 All the paraphernalia for pH monitoring system with 2 channels
Components


PocketMonitor

(GMMS-200pH)

1

Data Transfer Box(GMMS-TB)

1

Interface




1

Incorporated Software / including installing fee




1

Analysis Software




1

Disposable Catheter with 2 pH Electrodes




1

PC & Printer




1

Accessories (pH calibration liquid, calibrator stand, connector cable, carrying bag)




1

(Optional) Card Reader, Stand






(Reference)
International Criteria for Esophageal Acid Exposure Symptoms (Time ratio of pH 4 or less).

Exposure Time Ratio

Classification

Less than 4%

Normal

Less than 8%

Mild acid exposure

Less than 20%

Moderate acid exposure

20% or more

Severe acid exposure

AFP classification proposed by International Society for Diseases of the Esophagus (1992 ISDE)